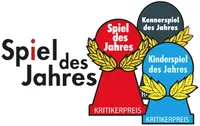 Sono state annunciate le candidature per lo Spiel des Jahres 2023, il premio tedesco per il "gioco dell'anno", oltre a quelle per il Kinderspiel des Jahres (KidJ) per il gioco dell'anno per bambini e il Kennerspiel des Jahres (KedJ) per il gioco dell'anno per appassionati.
Il presidente della giuria dello Spiel des Jahres, Harald Schrapers, e il presidente della giuria del Kinderspiel des Jahres, Christoph Schlewinski, hanno annunciato su YouTube le candidature (qui il link al video), insieme ad altri titoli consigliati, e questi tre titoli sono stati nominati per lo Spiel des Jahres 2023:
Dorfromantik: The Board Game, di Michael Palm, Lukas Zach e Pegasus Spiele.
Fun Facts, di Kasper Lapp e Repos Production
Next Stop: London, di Matthew Dunstan e Blue Orange Games (e in Germania di HCM Kinzel).
Oltre a queste nomination, la giuria di SdJ ha raccomandato i seguenti sette titoli: Akropolis, HITSTER, KuZOOka, MANTIS, QE, Sea Salt & Paper e That's Not a Hat.
Le nomination per il Kennerspiel des Jahres 2023
Challengers, di Johannes Krenner, Markus Slawitscheck, 1 More Time Games e Z-Man Games.
Iki, da Koota Yamada e Sorry We Are French (e in Germania da Giant Roc)
Planet Unknown, di Ryan Lambert, Adam Rehberg e Adam's Apple Games (e in Germania da Strohmann Games).
La giuria di SdJ ha raccomandato altri due titoli per appassionati: Council of Shadows e Mindbug. Il premio Kennerspiel des Jahres è destinato a coloro che si sentono già a proprio agio nell'imparare e giocare a nuovi giochi.
I titoli nominati per il Kinderspiel des Jahres 2023
Carla Caramel, di Sara Zarian e LOKI
Gigamon, di Karim Aouidad, Johann Roussel e Elemon Games (e in Germania di Mirakulus)
Mysterium Kids: Il tesoro del capitano Echo, di Antonin Boccara, Yves Hirschfeld, Libellud e Space Cow
Dati, numeri e considerazioni generali
Durante la presentazione, Schrapers ha sottolineato che solo uno dei nominati proveniva da una designer donna – Carla Caramel di Sara Zarian – e ha affermato che dei quasi 290 giochi presi in considerazione dalla giuria per lo Spiel e il Kennerspiel des Jahres, solo otto provenivano da designer donne. Complessivamente, le due giurie hanno preso in considerazione circa 440 giochi, il 10% in più rispetto al 2022.
SONDERPREIS, ovvero: Premi Speciali
La giuria ha inoltre assegnato due premi speciali "Sonderpreis" a Unlock! Game Adventures di Cyril Demaegd, Mathieu Casnin, Thomas Cauët, Jeremy Koch e Space Cowboys, e a Unlock! Kids: Detective Stories di Demaegd, Marie Fort, Wilfried Fort e Space Cow.